Senior Americans Day returns with new name
Academy for Lifelong Learners
For over 30 years, UW-Eau Claire Continuing Education has offered an annual day of education and connection for lifelong learners. After 2-year hiatus, we are excited to gather in-person once again with a new name: Academy for Lifelong Learners (ALL).
"It is important to communicate our EDI (equity, diversity and inclusivity) values and priorities through our programs, and it is our responsibility to help cultivate a culture of inclusivity," said Tamara Mumm, Program Manager for Academy for Lifelong Learners. "This positively ageless program invites ALL to learn and grow."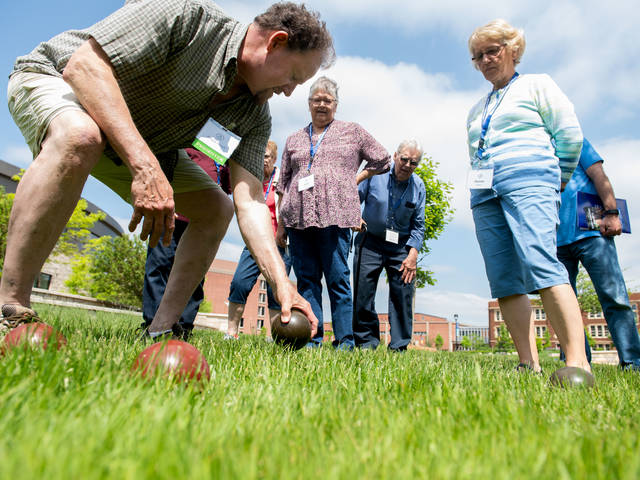 "When I heard the new name for the program, I immediately was drawn to it," said Debbie Lauer, WI Division Director-Post Acute Care at HSHS Wisconsin. Debbie has volunteered as a workshop presenter, provided information at her organization's sponsor booth, and attended the program in the past. "The new name is inclusive of all people who are looking to continue learning and/or be inspired."
The name has changed, but the program will remain the same. Attendees will have the opportunity to choose from a variety of educational workshops, gather valuable information and resources from local organizations, enjoy lunch, and have fun interacting with fellow lifelong learners.
Dr Zorba Paster, host of the public radio show Zorba Paster On Your Health, will be the keynote speaker. If you prefer to attend from the comfort of your home, there will be an option to attend online.
This annual program welcomes over 550 people to the UW-Eau Claire campus. It is an important opportunity for people age 55 and better. "You can continue to learn no matter what stage of life you are in. This is a day to learn and share, to connect with other older adults," said Cathy Reitz, director of Stand in the Light Memory Choir and the emcee for the 2022 program. "Stand in the Light Memory Choir is very excited to perform at the closing session," she added.
"I look forward to the opportunity to attend an in-person event, be inspired, learn, engage and interact with others," said Debbie Lauer.
Mark your calendar for June 7, 2022. Academy for Lifelong Learners will be a fun and educational day for ALL!
Are you interested in presenting a workshop or becoming a sponsor? Email ce@uwec.edu