Are you interested in learning a new way to create art? Alcohol inks are a unique way to create art with vibrant, highly pigmented colors. Learn to work with alcohol inks and create your own pieces to take home.
Key Program Information
Next Session
April 6, 2024 – April 13, 2024

UW-Eau Claire Campus: Haas Fine Arts Center
121 Water Street
Room 315
Eau Claire, WI 54703

Schedule

This class meets on Saturdays, April 6th and April 13th, 2024, from 1:30 p.m. to 3:30 p.m.

Related Programs
What is the Secret of Alcohol Inks?
Alcohol inks are a unique way to create art with vibrant, highly-pigmented colors. Because of the highly concentrated inks, just a small amount of ink will go a long way. Alcohol inks can be used on many surfaces to create cards, beautiful gifts and fine art.
We will experiment with different techniques to create a variety of textures on various surfaces to see how alcohol inks react. In the class, you will create multiple unique projects to take home, including bookmarks, coasters, abstract art, and a nature piece. This class is perfect for all artistic levels. Beginners and experts alike can create beautiful works of art by combining alcohol inks with their imagination.
Please note: alcohol inks have a strong scent so people with sensitivity to smells or respiratory issues need to be cautious.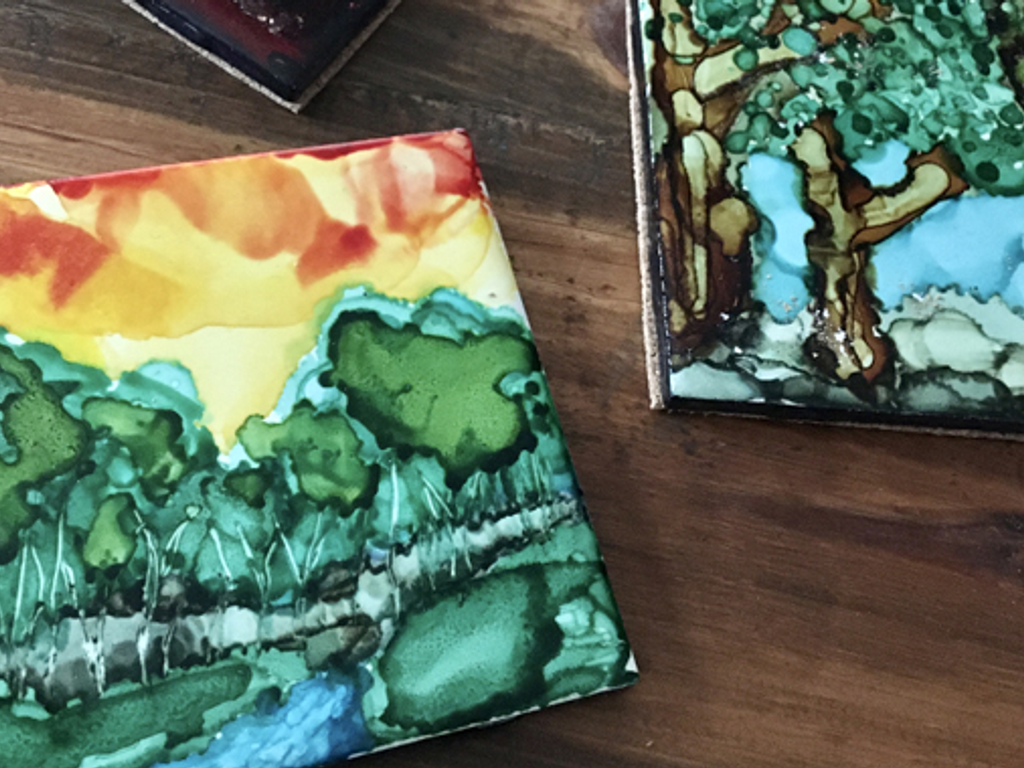 Who should attend
Community members, 18 and older, who are interested in learning more about the unique and beautiful method of painting with alcohol inks.
Harlie Juedes is a local artist that sells Midwest-inspired nature paintings to hospitals, organizations and homes. She is also the Assistant Director at the Small Business Development Center at UW-Eau Claire where she provides branding and marketing education and consultations for local startups and small businesses. Harlie was a part of the first annual Community Supported Arts program and the instruction and development of curriculum for the first and second annual Blugold Beginnings Exploring the Arts summer camps. Her work has made it on the cover of two Volume One Magazine editions and she has shown her paintings in galleries such as the Heyde Center for the Arts, the Eau Claire Public Library, the Chippewa Valley Museum and the Janet Carson Gallery.