This online training will provide you with the most-up-do-date information about Motivational Interviewing and how you can help clients make positive and lasting changes in their lives.
Key Program Information

| | |
| --- | --- |
| Series | Conversations about Change |
| Next Session | Sept. 8, 2023 – Sept. 29, 2023 |
| Schedule | This course begins online on Canvas, our asynchronous Learning Management System. Participants will complete 2 hours of independent work on Canvas throughout the month. In addition to this, participants will join two live, interactive sessions on Zoom. |
Create positive lasting change for your clients
How can Motivational Interviewing help you help patients with "hard to change" attitudes and behaviors? Motivational Interviewing (MI) is a well-established evidence-based approach to promoting positive behavior change. Shown to be effective across a variety of problem behaviors and populations, MI has become a highly popular and sought-after approach by professionals working in diverse practice settings such as behavioral health, medicine, corrections, and schools. Why would I want to learn Motivational Interviewing? Not only is MI the most effective way for you to assist patients to change, it can also reduce frustration and stress.
While you learn to maximize your skills in helping people to change their behaviors, you will also learn to minimize situations that get you into power struggles with your patients. This virtual training will introduce concepts and foundational skills involved in using MI. Participants will experience the course content through short lecture, video, and real-play. You will leave with a clearer sense of what MI will do for you and your clients.
Learning Objectives:
• Learn the definition of MI and explore and discuss the benefits of learning MI
• Become acquainted with relevant evidence of MI effectiveness in your practice settings
• Explain the 4 processes in Motivational Interviewing
• Define ambivalence through recognizing "Change Talk" and "Sustain Talk"
• Practice ways to effectively elicit "Change Talk"
• Recognize and describe the "MI Spirit"
• Observe and practice key listening skills, including reflections and giving advice/information
• Recognize when to use the skills of affirmations, open-ended questions, and summaries
• Learn ways to continue integration and personalization of MI into your work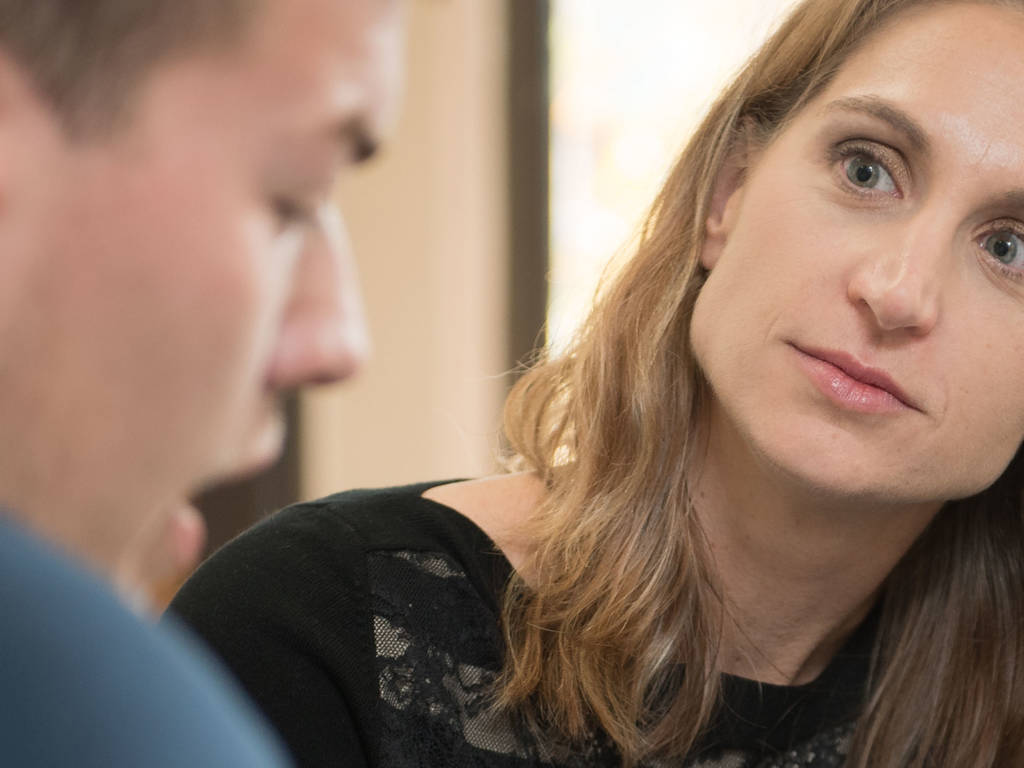 Who should attend
Behavioral Health Professionals, Clinical Therapist, Educators, Health Care Providers, Health Education Specialists, Home Health Workers, Human Services Professionals, Nurses, Physicians, Physical Therapists, Psychologists, Public Health Professionals, Social Workers and other professionals that want to effectively change problem behaviors with their patients.
Kay Eibl, M.A., LPC is a licensed professional counselor who has counseled individuals with disabilities and mental health concerns in both private and public settings over the last 9 years. Currently, she works as a Disability Specialist at Waukesha County Technical College, where she supports students with disabilities in reaching their academic goals. Kay is a member of the Motivational Interviewing Network of Trainers (MINT), and she is passionate about helping all types of professionals become the best listeners that they can be.